Defense Devil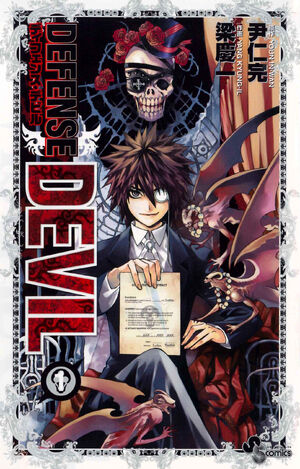 Information
Title:
Defense Devil (ディフェンスデビル, Difensu Debiru)
Author:
YOUN In-Wan (story) & YANG Kyung-Il (art)
Original Run:
April 8, 2009 – June 8, 2011
Published by:
Shounen Sunday (Shogakukan)
Volumes:
10 (100 Chapters)
Genre:
Action / Comedy / Ecchi / Mystery / Romance / Shounen / Supernatural
Defense Devil
(ディフェンスデビル,
Difensu Debiru
) is a Japanese manga series written by
YOUN In-Wan
and illustrated by
YANG Kyung-Il
.
Mephisto Bart Kucabara is a devil lawyer. In order to return to the demon world that he was exiled from he needs to collect enough Dark Matter. To do so he creates a plan to claim the Dark Matter from the souls of sinners sentenced to hell. Prove the soul's innocence and the Dark Matter becomes his. But how can he gather enough Dark Matter when his kind personality causes him to continually use it up in order to defend the soul from the Shinigami that has come to take them to hell?
Manga Guide
Edit
Ad blocker interference detected!
Wikia is a free-to-use site that makes money from advertising. We have a modified experience for viewers using ad blockers

Wikia is not accessible if you've made further modifications. Remove the custom ad blocker rule(s) and the page will load as expected.